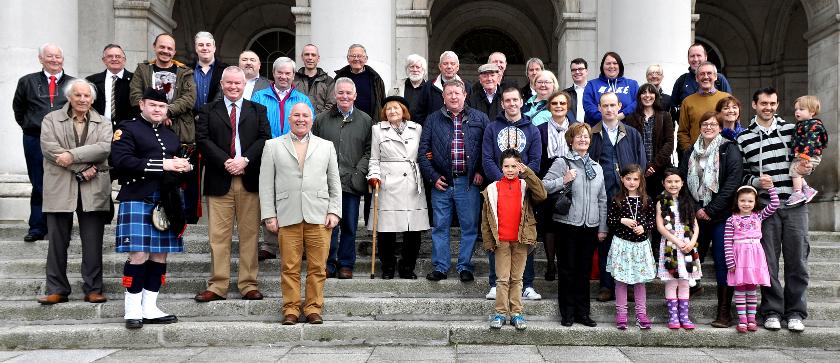 This year's conference on the Burning of the Custom House in 1921 was again hosted by Liz Gillis and Mícheál Ó Doibhilín.
The venue chosen was the historic pub, Cleary's,
of Amiens Street, Dublin, which has many links to the fight for Irish freedom, and was a favourite meeting place for Michael Collins.
As the Conference took place on a Sunday - the anniversary of the burning, 25 May - and was held in the morning to facilitate a wreath laying at the memorial in the Custom House grounds at 1.00 pm (time of the attack), the pub was closed and the meeting took place in the huge rear lounge.
Tea and coffee were provided free by the management and we are very grateful to them for their hospitality.
Unfortunately, due to the premises appearing closed a small number of people did not get in.
This was a pity and we apologise to them, but assure you it will not happen next year.
That said, avery large crowd did turn up (our biggest yet, possibly) and those who got in enjoyed the proceedings immensely.
The event started with Liz telling the story of the attack and its aftermath. This was an updated version of the Custom House talk she and Micheal have been giving for some time, but incorporating the latest findings.
Next Mícheál told the story of the attack on the Custom House post office by three men, as part of the overall raid. This talk was based on the recent discovery of Ned Corcoran's memoir of the event - an incredible first-hand account.
Las Fallon followed with an updated talk on the Dublin Fire Brigade's involvement in the burning and details of some of the personnel involved.
After a brief discussion,
all repaired to the Custom House where descendants of the men who took part laid two wreaths at the monument erected there to those who took part - one of them for ALL who took part and were injured, whether civilian or combatant. Liz Gillis was given the honour of laying this one.
A very moving tribute was paid when a piper from the Fire Brigade played a lament in their memory. So moving was this, and so appreciated by all present, that it hoped this can become a permanent feature of the annual commemoration.
Then, thanks to the staff there, we were permitted to enter the Customs House, before re-assembling outside on the steps for a group photo.
Some people had gone home by then, but most are shown in the photo above.
Other photos on the day (mostly by Liz Gillis) are below - a fine record of a commemoration of one of the pivotal events of the War of Independence. (To view a larger image, click the thumbnail).